Tuesday, September 1, 2009 at 1:00PM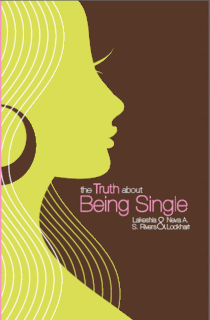 I finished reading a new book, "The Truth about being Single" in July and came away from it with a further understanding of how many women in our modern society view marriage. Choosing to bypass this book would be easy if it weren't for the numerous messages in movies and TV shows that make dating one of the most important topics in communities across the country. TV shows including Sex and The City, The Bachelorette, Hitched or Ditched, Desperate Housewives and movies such as Waiting to Exhale and He's Just Not That Into You all place an emphasis on the fact that single women want (or "need" in some cases) a man to share their lives with.


Some movies and TV shows also display a sort of desperation among women when it comes to finding a longtime mate and getting married. Some TV fans and supporters of Sex and the City may argue that the HBO series helped to liberate women while showing that we don't need a man to be happy. However, this perception of Sex in the City is not exactly accurate because even the strong and cynical woman on this show (Miranda, for those who are not familiar) ended up getting married after she had a child out of wedlock and went on to buy a house and dog. Samantha settled down with her actor boyfriend and Carrie (who is supposed to be the voice of ALL single women, right?) still longed for a happy ending so much that she was willing to settle for a guy who was very much her senior and more interested in having her as a trophy girlfriend than anything else. To be a TV show that is supposed to display single women as "fabulous", the storylines and actions in Sex in the City moved toward the exact opposite....wanting a man...which is what some people in our society view as "desperate" or "ungrateful for other blessing's that life has to offer" and is what The Truth about being Single is all about.
There are lots of movies and TV shows such as Sex and the City that make it seem as though there is something wrong with single women who want to get married. Written by Lakeshia S. Rivers and Neva A. Lockhart, The Truth about being Single brings the most vital concerns of single women to the forefront in a very distinct manner without any extra fluff. It's a tell-it-like-it-is book that also dispels some myths about wanting to be married that many single women can find inspiring and useful. There is an entire chapter dedicated to responses from several women of different ages, races and backgrounds on what their views are toward being single and what their culture has taught them about being unmarried. The authors even mention their own experiences, which helps them relate to other single women who have concerns about finding a longtime mate.
One of the most funny (and oh, so true and also sad, maybe) aspects that I found while reading this book is an awkward situation that lots of single women go through when being invited to weddings or even being a part of the bridal party. There is a discussion about a single woman attending or being invited to multiple wedding engagements and/or baby showers in one year and wondering "will it ever be my turn?". In Waiting to Exhale, one of the main characters named Savannah (played by singer and actress, Whitney Houston) welcomes the idea of having a man but does not let it become the central purpose of her existence. There is a scene where she gets frustrated with her mother who is trying to convince her that the married man she is dating "is just in a bad situation" but "he's a GOOD man!". Savannah responds by saying "Mama, I tell you what, why don't you fucking marry him then". The Truth about being Single also covers this type of frustration where friends or family ask "why are you still single?" or try to console single women with the comforting "you'll find someone one day" behavior.
While The Truth about being Single is not one of those "How to Find a Man" books, there is a brief worksheet that can help single women clearly define what they will and will not accept in a potential mate. This worksheet is no more than two pages and can be very useful for women who may have lost themselves in a long string of bad relationships and want to start a new pathway for fresh opportunities and clear direction when trying to identify who their future husband will be. This book is small enough to fit in a purse, making it convenient for working women to read. I was surprised by the size of The Truth about being Single because my initial perception from reading about it online was that this book was going to be larger than it is. It was refreshing to realize that I could read this book while stationary or traveling so the size is fitting for a variety of lifestyles.
The Truth about being Single is geared toward women who want to be married, or at least, that has become my perception after reading this book. Single women who are content with their singlehood (like Savannah in Waiting to Exhale) may not find this book useful. Still, all women may enjoy The Truth about being Single as a quick and positive piece of reading material that reassures us that it's ok to desire marriage....even for those of us who are satisfied with being without a mate.
Stay tuned for an interview with the authors on the truth, myths and perceptions about being single!
For more information and to order the book, visit www.thetruthaboutbeingsingle.com
Technorati Tags: The+Truth+about+being+single, The+Truth+about+being+single+book, The+Truth+about+being+single+book+review, , , The+Truth+about+being+single+review, truth+about+being+single, single+women+books, books+for+single+women, dating+books, , , books+on+dating, books+on+being+single, books+on+living+single, books+on+single+women, being+single+books, Lakeshia+Rivers, Neva+Lockhart, Lakeshia+Rivers+and+Neva+Lockhart+book, Lakeshia+Rivers+and+Neva+Lockhart+books, Lakeshia+Rivers+and+Neva+Lockhart