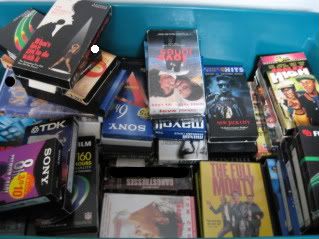 'M' is for "Movie Collection" today, so allow me to show you my movie collection as I move along in the A to Z Challenge. This post was a long time coming and was written in response to a Top 10 Movie List and "I'll show you mine if you show me yours" bait from Terrible Analogies. Here is my movie collection, which is followed by a list of my top 10 independent films.

As you can see, my movie collection is very unorganized. Not only does it contain a mixture of VHS movies, VHS tapes filled with recorded movies that aired on television, VHS tapes featuring some of my school work when I studied film & video and DVD movies, it also lacks an alphabetized or categorized setup in my storage bin.
Some years ago, I just dumped my movies into a container and there they sit....until I decide to watch one of them. Also, please excuse those white and black dots in the picture. I had some trouble trying to get rid of them after covering a label on a VHS tape because...well frankly, that particular tape in my movie collection is not exactly appropriate for this particular blog post and also it is nobody's business.
Now, on to my Top 10 Independent Movies (in no particular order):

1. The Professional – Man meets girl. Girl gets into trouble. Man kicks ass on a mission to rescue girl. End of story. What more do you want?

2. Million Dollar Baby – I don't care what anyone says, women fighting is gross even if it is in the professional arena. Still, Million Dollar Baby is one of my top 10 independent films because it displays important messages that are worth trying to live by. Hilary Swank's character went from a waitress who brought home customer leftovers because she couldn't afford to buy food to a professional boxer adored by fans and the media.
Most people are afraid of dying but Maggie (played by Hilary Swank) was so satisfied with the life she lived that death would not be scary at all. This woman in Million Dollar Baby lived as she desired and kept a positive attitude throughout the entire movie, even when she encountered situations that would have most of us throwing a tantrum like Tony Stewart on a NASCAR track.

3. School Daze – The perspectives of some of the characters in School Daze were not a favorite but this is one top independent film that brings a whole new meaning to school spirit. Those fun stepping scenes made me want to join a sorority or at least visit a historically black college to watch them perform next to fraternity brothers during school events. An entire decade has past and I still wonder…..what is the significance of Tisha Campbell and Giancarlo Esposito's hair/scalp licking scene? Some may think it's sexy or even humorous, at best. Here is a news flash: It's NOT. It's gross!

4. Menace II Society – A movie about growing up in the "hood" (um, or the ghetto) and how the choices you make today will affect your future in a negative or positive way depending on which path you choose. Movie fans that will enjoy Menace II Society may be those who also liked Boyz N the Hood, New Jack City, Belly, State Property or other "hood" movies. For those who have already watched Menace II Society, all I have to say is "…hey man, I got these cheeseburgers", lol.

5. Kids – All movie fans must watch Kids at least once. It's not only one of the most popular and critically acclaimed independent films of our time. Kids is also still relevant today, in 2009 and will likely remain that way for as long as it is available on video, DVD, online or television. This movie follows a group of disorderly teenagers, one of which is a little ungrateful and disrespectful bastard on a quest to have sex with as many virgins as he can. The plot thickens with intertwined storylines that only get worse throughout the duration of Kids.
It's a sad movie that also made me angry because it is a reflection of the way many of us behave and allow our children behave in real life. Kids should be required viewing for all 8-12 grade students and their parents. It would even be appropriate to play this in some college classes as well so young men and women in our society make responsible choices when deciding whether to have sex or not. The main conclusion of this movie, in my opinion, is that ALL kids need more supervision. Forget letting them go to the mall with a group of friends. Tell them to read a book!

6. Crash – Everyone is racist or has some level of prejudice against other people, whether they realize it or not and whether their prejudicial behavior is intentional or not. Bottom Line! Crash doesn't sugar coat anything and that's what makes this a "Top 10" independent film. For some odd reason, I got really mad when that store owner used a gun to solve his problems instead of taking responsibility for his own choices.
His scenes were very important to me because it brought up a good underlying message that many of us, especially adults, should stop blaming other people for our problems. If you do what you're supposed to do from the beginning, then you wouldn't have any problems to start with! It's not the Spanish guy's fault that you have theft, vandalism and insurance problems……it's YOUR fault for not securing your property in the first place, dumbass!

7. Requiem for a Dream - If Kids can make you think twice before having unprotected sex, Requiem for a Dream will convince you to always say no to drugs. I was unfamiliar with Requiem for a Dream until one friend told me this movie made him want to stop smoking weed and never do drugs.
I bought the DVD, watched the movie once and understand why Requiem for a Dream is like Scared Straight for people on drugs or those who may consider trying a little marijuana, ecstasy, heroin, etc. here and there. The old lady in this movie is enough to drive the toughest adult to tears. While I do not have the courage to watch Requiem for a Dream again, the DVD will remain in my collection because it's one of those movies that you must watch before you die!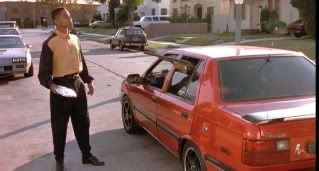 8. Boyz n the Hood – Did you know that John Singleton received two Academy Award nominations for Boyz n the Hood? I didn't until 2009 year while doing research on Michael Jackson music videos. He was the youngest person ever nominated for an Academy Award, which now makes him someone I consider to be inspiring. Until then, Nick Cannon was an idol of mine for his success at such a young age.
Anyway, Boyz n the Hood is another one of those "hood" (aka Urban, Black or however you want to categorize it) movies but I like the structure and star power it boasts (Lawrence Fishburne, Angela Basset, Cuba Gooding, Jr., Ice Cube, Nia Long, Morris Chestnut and the list goes on). The story has a powerful message about raising children in tough neighborhoods and places emphasis on the importance of fathers being in the home or at least taking an active role in setting a good example for the boys that they helped conceive to be productive, responsible men who stay out of trouble.

9. Cooley High – Talk about Retro! If you think Lean on Me is a classic, then Cooley High better be in that group as well. This movie has a mixture of drama and comedy but is very sad. Cooley High displays moments of mischief and classic behaviors of urban city residents, specifically two high school friends who get into trouble before reaching college. The soundtrack is killer and I would definitely love to have it on CD but for now, I will be grateful for the VHS movie of Cooley High in my collection.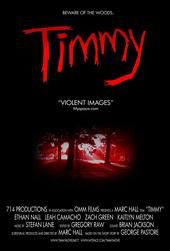 10. Timmy – This may be cheating since it's shorter than most TV shows, but Marc Hall's horror film "Timmy" is on my top 10 independent films list because it's well produced. I also had difficulty coming up with another feature length movie that was independently produced, so Timmy takes the spot.
Timmy is classified as a horror film but I would place it in the suspense category as well. At 7 minutes in length, there's not a lot you can do but Timmy has a clear and concise beginning, middle and end. The story moves along well with an ending twist that no one suspects. I would recommend Timmy to any movie fan who likes horror films or enjoys watching short films.
Unfortunately, as of this month, I do not have one (or some) of the movies on this list in my movie collection (ahem, "Crash," ahem, "School Daze," ahem) and plan on changing that eventually. If someone wants to buy them for me, I welcome gifts. Also, if someone has them and would like to do a DVD exchange with me, I'm game for that as well!
What movies do YOU think everyone should add to their movie collection?
Technorati Tags: a+to+z+challenge, top+10+movies, top+10+independent+films, my+movie+collection, movie+collection, top+10+independent+movies, my+top+10+movies, my+top+10+independent+films, a+to+z+blog+challenge, a+to+z+blogging+challenge, a+to+z+blog, a+to+z+blogging, a+to+z+april+challenge, a+to+z+april+blog+challenge, my+top+ten+independent+films, my+top+ten+independent+movies