Monday, June 6, 2011 at 10:37PM
This week's monday movie meme is all about giving, as The Bumbles says to share "movies that feature presents, gifts or other tokens being presented." Here are some movies that I believe fit in the gift giving category fairly well. They range from totally romantic gifts to those that are conditional and less sincere because of ulterior motives to surprise gifts that lose their long-term appeal.

Desperate Measures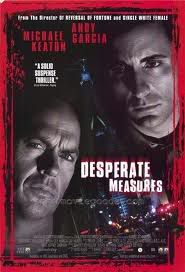 Michael Keaton plays a murderer who agrees to give bone marrow to a cop's (played by Andy Garcia) son who is suffering from leukemia but uses the transplant as an opportunity for his escape from a life sentence in prison. In a way, "Desperate Measures" has indian giving written all over it since Keaton's character does something that people often hate in real life.....offer something and then take it back or worse......offer a gift and then renege on the deal.

Why Do Fools Fall In Love
*Spoiler Alert*

Based on singer Frankie Lymon who was the lead member of doo wop group Frankie Lymon & the Teenagers, "Why Do Fools Fall In Love" is a perfect example of getting receiving gifts that you either regret or presents that end up costing too much because they are not worth what you endure. Larenz Tate plays Lymon and surprises his first wife Mickey (played by Vivica A. Fox) with a mink coat sometime after they move in together.
Unfortunately, all of the mink coats in the world are not enough to save a relationship that is going sour because of a significant other's drug habit.....in this movie and in real life. What was once a cherished token of love became currency that Mickey used to pay her husband's debt, saving his life from being beat to death at the hands of a street thug. Does Frankie thank her and replace the mink coat with an even better one, like any appreciative husband would do for his wife? Nope. Instead, he kills her dog after leaving rehab and accelerating into alcohol abuse.
The Notebook
Ryan Gosling plays a guy named Noah who falls in love with a girl named Allie that he meets over the summer, despite the fact that she is out of his league, as stressed by her parents. Rather than give up hope on being with the girl of his dreams, Noah builds a house that he believes will bring Allie back to him. Talk about a grand gesture!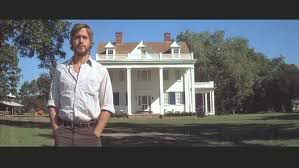 Now, I don't know about the rest of you all, but a man who builds (or reconstructs, if it really matters to some of you "Notebook" fans out there, lol) a house with his bare hands just for the lady that he wants to spend his life with scores lots of brownie points and is alright in my book!
Technorati Tags: monday+movie+meme, the+bumbles, why+do+fools+fall+in+love, the+notebook, the+notebook+movie, desperate+measures, desperate+measures+movie, michael+keaton, andy+garcia, ryan+gosling, larenz+tate, vivica+fox, frankie+lymon+and+the+teenagers, frankie+lymon, movie+meme, gifts+in+movies, movie+gifts, gift+giving, gift+giving+scenes