Tuesday, November 1, 2011 at 10:06PM
The writer's choice prompt for week #16 of the Group Blogging Experience was "Children" or "Parent." Rather than choosing one of these two choices, I decided to combine them for a list of party ideas that are suitable no matter how old or young the party host or guest of honor is at the time of the event. Here are a few "The Princess and the Frog Party Ideas" that you can use for a Castle, Swamp or Mardi Gras themed event.

"The Princess and the Frog" Party Food:
Serve Gumbo as the main course, Beignets for dessert and sparkling cider to guests. Cider is a more appropriate choice for adult parties than beverages containing alcohol if you want to keep your social gathering in line with this "G" rated movie.....it is categorized as a family film, after all! If your party is for kids, substitute the sparkling cider for a lime and lemonade beverage or green apple juice.
Need some Princes and the Frog party beverages that are suitable for both children and adults? No problem. Find a swamp water recipe that you like and make it for the kids and then use a different recipe to make a swamp water cocktail for adults. These party drinks should not be served on the same table, but, I don't (hopefully) have to tell you that, right?!
"The Princess and the Frog" Party Games:

Despite being annoying in this movie, Ray (the animated firefly) can serve as inspiration for a game that requires little supplies and setup time. However, it does have seasonal and geographical limitations that may affect how well you can pull it off....if you can at all. Host a race at a party for kids, where guests have to collect fireflies using glass jars within a specific time frame that you choose. The player who has collected the most fireflies when the time runs out wins this game.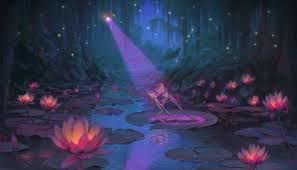 "The Princess and the Frog" Party Decorations:

If you're going with a Castle theme, setup the party venue to remind guests of Tiana's Palace. You could also use this layout as a lead into the party entertainment by hiring a live jazz band to play New Orleans inspired music or at the very minimum.....play top jazz tunes on a stereo or iPod dock.
Decorations for a swamp theme based on "The Princess and the Frog" could be easily made if the party is hosted outdoors in your backyard. Add different colors to empty glass bottles and hang the bottles from trees using rope or yarn. You can place candles in them or small lights to help illuminate the party area as the sun settles if your party goes well into the evening.
If you have a pool, add green food coloring and some dirt or chocolate cookie crumbs to the water to give it that swamp water look, or better yet....throw some leaves in there too. Wrap green, black, purple and gold beads around a tall votive glass cangle holder or slim lamp and then place a half-face costume mask in front of it to make a quick and easy tabletop centerpiece decoration for a Mardi Gras style event.
P.S.
The L.A. Water Recipe on the Tipsy Bartender show could be used as an option if your Princess and the Frog Party is going to have a swamp theme. Swamps are dirty, L.A. Water is said to be dirty, you're good to go with some dirty ol' drinks!
This post continues my quest to getting up to speed with the GBE2 after getting behind for a few weeks that led to a month.
Technorati Tags: princess+and+the+frog, group+blogging+experience, gbe+2, gbe2, gbe2+week+16, group+blogging+experience+week+16, word+nerd+speaks, princess+and+the+frog+party+ideas, princess+and+the+frog+party, all+ages+princess+and+the+frog+party, party+ideas+for+all+ages, swamp+water+recipe, swamp+water+cocktails, swamp+water+drinks, disney+movie+party, disney+movie+party+ideas, princess+and+the+frog+party+tips