Sunday, March 4, 2012 at 3:05PM
An Ultimate Collector's Edition of the crime drama, "The Town" starring Ben Affleck is set to be released this Tuesday, March 6th. In February, Warner Bros. and the city of Boston were so excited for the new release of "The Town" on Blu-ray and DVD that they came together and renamed the corner of an intersection after this movie. Avery street became "The Town Take 2 Place," right where it crosses Tremont street, for a few days.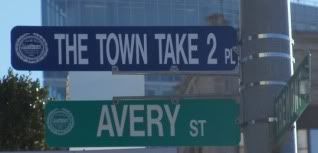 A Charlestown district chief city councilwoman said that it was the first time a Boston street has been renamed temporarily. While the signage probably annoyed some travelers or locals who believe it is unnecessary, Ben Affleck fans and the general movie going public probably didn't mind the change at all, especially since it's right outside the AMC Loews Boston Common movie theater.
What's so special about "The Town" Ultimate Collector's Edition Blu-ray or DVD, you ask?


Well, this edition includes a 153-minute extended version and a more gritty alternate ending. The extended version delves more into the life of Ben Affleck's character, Doug MacRay, including a "beefier" romance between him and Claire. Thanks to USA Today, here are some of the accompanying extras that "The Town" Box set contains.
- 4 Featurettes
- Commentary on 3 different versions of "The Town."
- 48-page filmmaking photo book
- rub-on tattoos
- Mug shot cards
- 15-page FBI Report that was used in the film.
- A map of Charlestown, with details on crime scenes from the movie.
- A 30-minute documentary, called "The Town: A Director's Journey."
Oh, and it also has a 3rd disc containing the original 125-minute theatrical version of "The Town," but it would be silly for a box set to not include the one that audiences have come to know, right? Or else, the whole 'Ultimate' claim is just a ploy to give the Blu-ray and DVD more attention. I'm just sayin'.
Now, is it just me, or are those rub-on tattoos in this box set a little inappropriate or at the very least, strange given that "The Town" is an R-rated movie? Unless someone is hosting or attending a themed party, why is anyone over the age of 17 walking around with rub-on tattoos? Just a curiosity. Maybe I'm out of the loop.
The release of an Ultimate Collector's Edition for "The Town" comes at a great time, since Ben Affleck, who also co-wrote and directed this movie, is our new King Dong for the month of March 2012. Hats off to him!
What are some of the best special features that YOU've seen on DVDs in your movie collection? Are there any special features that YOU wish were never included on any DVD, whether it is collector's edition, or not?
Technorati Tags: the+town+ultimate+collectors+edition, the+town+blu+ray+dvd, the+town+ben+affleck, the+town+bluray, the+town+bluray+dvd, the+town+collectors+edition, the+town+on+dvd, the+town+dvd+release, ben+affleck+the+town