Monday, April 11, 2011 at 6:39PM
Based on a best-selling novel of the same name, "Desert Flower" tells the real-life story of Waris Dirie from Somalia. After being circumcised as a toddler and then sold by her father at the age of 13 to be the fourth wife of an older man, she fled Africa and then worked as a maidservant.

Waris Dirie was later discovered by a fashion photographer and went on to become an supermodel. Instead of discussing her experience of going from poverty to walking down runways around the world, she tells her story of being mutilated at five years of age (or 6 or 3? some sources, including the film's website differ on the exact age and while I do have the Desert Flower book that was published, I didn't read it yet) in the Somali desert.

The "Desert Flower" movie focuses on childhood trauma, womanhood and many other important issues that are relevant behind the fame, fortune and glamour of this particular high fashion model. It is something worth watching because the story not only reminds us how different our cultures are but at the most basic level, we are all human beings who should understand how certain experiences such as what the Waris Dirie went though change women's lives forever. "Desert Flower" stars actress (and Goodwill ambassador for maternal health) Liya Kebede and is presented by National Geographic.


It is Now Playing in select cities in the U.S. and other places around the world. The producers and/or National Geographic encourages those who wish to see this movie to call their local movie theaters and request it if it is not available on your area.
Here are the upcoming Dates:
April 1, 2011
Irvine, CA at Westpark 8
Palm Desert, CA at Cinémas Palme d'Or
San Rafael, CA at San Rafael Regency
Chicago, IL at East River 21
Portland, OR at Fox Tower Stadium 10
Houston, TX at Edwards Greenway
Palace Seattle, WA at Pacific Place 11
April 8, 2011
Boise, ID at The Flicks
Boston, MA at Kendall Square 9
Charlotte, NC at Regal Cinemas Manor Twin


I chose to highlight this "Desert Flower" movie as a part of this week's Moday Movie meme because The Bumbles selected a topics about flowers. This blog post also features "Desert Flower" because Waris Dirie worked as an ambassador for the United Nations to speak out against genital mutilation, bringing an international element to the movie.....which can be in tune with my choice to make "I" stand for "International" during this year's A to Z Challenge.
Maybe I also posted this because when I received a message about it screening in a local theater, I was shocked about this new movie coming out...not because of the subject matter but because it was based on a book that someone told me to read a long time ago and it still sits in my apartment collecting dust (that was figurative, not literal....the book is in very good shape).
Anyway,
What do YOU think?
Is this a human right's issue that all countries should be concerned about?
Should those who do no live in countries where this is a normal practice ignore the subject?
Should there be just as much effort to spread awareness about the effects, if any, of male circumcision as there is about the handling of little girls in Africa who are being mutiliated by people who do not have any medical experience to perform such an act?
Should female circumscision be accepted so long as it is performed by medical professionals in a doctor's office, hospital or other medical setting?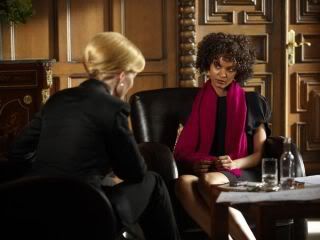 When I was in school studying film, I was approached by a fellow student who I believe was from New York City, to write a screenplay for this movie. She claimed to know Waris and is the reason why I bought the book (because I wanted to figure out what this was all about) but many, (MANY!) years later....I still haven't opened it up to read even one page of it.....and now I sorta wish that I took it more seriously.
Then again, things (supposedly) happen for a reason, right? Maybe this girl didn't know Waris and was trying to make a movie of her own based on the book. Maybe she wanted me to write the screenplay so that she could sell it for another project or to gain industry connections for future projects. Or, maybe she was for real and I missed out on an opportunity.
Should've-could've-would've!
No one will ever know!
Technorati Tags: Waris+Dirie, desert+flower, desert+flower+movie, a+to+z+challenge, monday+movie+meme, monday+movie+meme+the+bumbles, the+bumbles+blog, a+to+z+blogging+challenge, a+to+z+blogging, a+to+z+april+challenge, april+blog+challenge, april+blogging, desert+flower+film