Sunday, October 16, 2011 at 1:36PM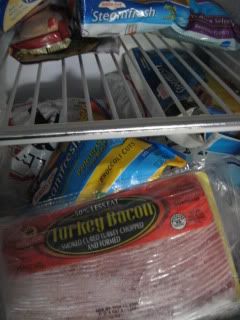 By the end of this month I will have thrown away an unopened package of bacon, one-quarter pound of cheese, one-quarter pound of turkey breast, a half-full box of granola cereal, one and a half containers of cream cheese and one half bag of Cheerios in the trash. Don't even get me started on the banana pudding that my Grandmother made weeks ago that I still didn't finish eating.
These items are either old, past their expiration date or stale and questionable to consume after being stored for too long. Yet, I woke up this morning hungry and disappointed that all I had to eat for breakfast was a peanut butter and jelly sandwich because toast did not seem very filling. It is an absolutely wasteful habit that does not help the environment and seems quite ungrateful considering the shortage of nutritious food that people are facing here and abroad.




You know that movie scene in "Alive" where a group of rugby team players who survived a plane crash eat the flesh of dead passengers while stranded on cold mountains? If not, don't worry. I didn't watch it yet either but will, along with the Martin Sheen narrated documentary "Alive: 20 Years Later" as soon as Netflix or Blockbuster ships them my way.
It is not easy to imagine eating human flesh in any capacity. It is also probably not easy for the average person to imagine eating old, smelly, expired or stale food either because we don't have to do so. We can just get new food but an even better alternative is to buy only the amount of food that is needed and no more.
No matter how bad the food I listed earlier in this post seems to me, chances are that the people munching on their friends in "Alive" (which is based on a trued story) would prefer my stale Cheerios or old cheese over human flesh any day of the week if they had a choice. Today, more than 50 million household have insufficient food supply according to a NY Times article. The piece also mentions a study by the Department of Agriculture reporting that just one fifth of the food waste could feed 10 million people each year.
A singer named Michael Jackson once said that he's going to chance the world by starting with the man in the mirror. I'm taking note from Jackson and starting with the woman in the mirror on a quest to reduce food waste. Who dares to join me?
by the way....
How much food have YOU wasted this year?
Technorati Tags: Blog+Action+Day, BAD11, blog+action+day+2011, blog+action+day+food, BAD11+Food, blog+action+day+food+waste, alive+movie, alive+film, alive+movie+food, alive+film+food, food+waste+films, food+waste+movies, food+waste