Monday, April 4, 2011 at 1:10AM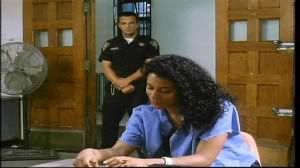 For this week's movie Monday meme, The Bumbles was so kind to host my suggested topic of Women & Prison. The film "Condition Red" (1995) Starring James Russo and Cynda Williams is my pick for the subject because it takes place in a prison with a storyline that centers on woman who gets into a compromising position while doing time. This movie has a combination of love, lust, crime and manipulation.
The plot: A prison guard with a quick temper falls in love with a female inmate who wants him to help her escape from being behind bars.

Elvis would probably blush, as Gidell Ryan (played by Cynda Williams) and her guard definitely had the jailhouse rocking in this movie. Their actions however, created emotional conflict between the two and, as you can imagine, professional complications for Dan Cappelli (James Russo's character), who struggles with not only playing it cool so that co-workers and prisoners are not on to his romance with an inmate but also choosing between helping the woman that he supposedly loves and doing the right (or legal, or moral or whatever you want to call it) thing which is abiding by the laws and his job duties.
Sidebar: Damn, I just realized that I could have totally published this as part of the A to Z challenge too, killing two birds (or rather, blogging tasks) with one stone (that is...one blog post)!
This is how I believe the characters in "Condition Red" are pimping each other though: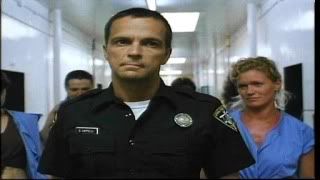 Watching this movie, it was not easy for me to figure out whether Cynda Williams' character was truly into the prison guard that she was sleeping with or not so she was manipulative toward him by playing games. She was also using her emotional currency and sex as some type of get-out-of-jail free card. What she fails to understand though, is that, much like in real life (especially in our American society), nothing is FREE, so the guard wants more than she may have bargained for when entering into a romantic relationship with him. Still, she's pimping by manipulating the situation to get the guard to do things that he normally would not do under other circumstances.
The guard played by James Russo isn't a saint either because he knows that sleeping with a prisoner is a no-no that could cause him to lose his job....yet he still does it (or well...her!). When he starts caring about this female prisoner more than he should, the guard begins to act all funny and his behavior leads to special favors until that one favor (escape) becomes too big to handle. He is pimping by using his position as an officer of the law to get in the good graces of a vulnerable female inmate who will more than likely give up some sexual favors in exchange for a more comfortable life behind bars....and, in the case of the Condition Red storyline...assistance in an escape, which is also breaking the law even further.

What movies does the subject "Women & Prison" remind YOU of?
Have you watched Condition Red?
If so, leave your review of this movie in the comments.
Technorati Tags: monday+movie+meme, the, bumbles, movie+meme, condition+red+cynda+williams, condition+red, cynda+williams, condition+red+movie, women+in+prison+movies