Sunday, February 12, 2012 at 2:52PM
Have you ever noticed the peculiar tendency of so many talented people working in the film industry, or entertainment business in general for that matter, who did not have any initial interest in being in this field? If they never changed the direction of their life or career plans, the world would be missing out on a lot of great performances and maybe even greater insights on one's human existence.
Actor Denzel Washington, who went from being a pre-med student to a pre-law student and later graduating from Fordham University with a degree in journalism, is clearly one of these people. As the son of a Pentecostal minister, Denzel Washington was not allowed to go to the movies during his childhood but caught the acting bug after receiving encouragement from a fellow camp counselor, following his performance in their YMCA talent show.
After winning two Oscars and starring in over 50 movies and TV shows combined, Washington is often referenced under many different titles including "movie star" in lieu of "man" or "black actor" rather than "actor." Just glance at some of Denzel Washington's most notable quotes, however, and you may find that he has less interest in being famous, more concern about preserving the feeling of surprise and adventure that audiences should experience when watching films and having brown skin does not solely define him or what he is about.


On Making Movies...
"There's fun creating that magic. Bringing something to life, whatever. Putting together a character. The twists and the turns that people don't expect. So to sit around and talk about it before someone sees it is boring. I think there should be some mystery in it. Who wants to know everything about it? I think it ruins movies when you know everything about how the movie was made and put together. If you explain, it's like showing you the trick before I show you the magic. Let me explain to you how it works. All right, now come see the show. It's supposed to be magic. And being an actor is about creating that magic."
On Being Black...
In the 90s, theater and film critics praised Denzel Washington as some sort of great black villain for his performances in the play "Richard III" and the movie "A Soldier's Story." Washington was less than thrilled for any label that isolates him from the work as a whole, in this manner.
"What does that mean, a black villain?" -- "How do you think I feel sitting here having people say, black this and black that, as if that's all I am? First of all, I'm a man. Let's talk about about that. Or as an actor, ask me how I feel about things. But the questions are always 'as a black . . .,' 'as a black . . .,' 'as a black. . . .'
I'm very proud to be black but black is not all I am. That's my cultural historical background, my genetic makeup, but it's not all of who I am nor is the basis from which I answer every question. I get very upset when I hear 'black villain,' as opposed to a 'white villain' or an 'Italian villain.' I don't think I should be talked to only as a black actor . . . I think its very racist."
Working on "Mo Better Blues" directed by Spike Lee was a new experience for Denzel Washington, who was used to being isolated on set and struggled to get accustomed to the atmosphere of a movie where Lee wanted to exploit Denzel's popularity among wide female audiences and encourage white audiences to be comfortable with black sexuality.
"I don't have as much of an agenda as Spike does. I'm not trying to move people in any area, it's just the movie business, you know. -- I am attracted to certain parts and I've learned a lot from them, about history, culture, myself, how the world views black people and how black people view the world."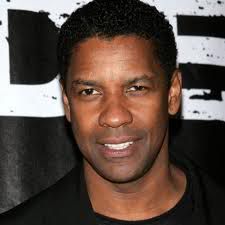 Denzel Washington is just as quick to refrain from labeling films as he his from categorizing himself as an actor, and this goes for everyone including film critics, audiences and colleagues.
"I think all films can speak to people across color lines. I don't think that's a new concept. Do you think that only Italians go see (Martin) Scorsese's films, that only Britons go see (Richard) Attenborough's films, that only Canadians go see Norman Jewison's films? You have to question that. I think people go to good movies."
"The only way to look at this is continuing the variety I've tried for, the new and different challenges. People say, 'You're the guy that's gonna' carry the torch for history,' -- But I'm not that guy. I just want to do the things I want to do -- I'm not anti-black or shunning my own blackness. But if we are making any progress, if Hollywood is getting any better, it has to start with each one of us."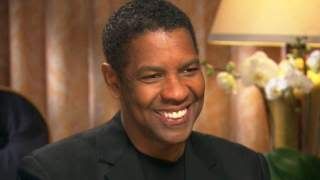 On Simplifying Life...
Denzel Washington spent his 40th birthday reflecting on what he did with the first 40 years of his life and also how he plans to spend the next 40 years of his life. During this time, Washington also took the analogy that a motivational speaker named Les Brown made, to heart, when trying to figure out ways to simplify life.
"He was saying when you die, imagine you had these ghosts around your bed that represent your unfulfilled potential. Things that should have been done, should have been experienced. How many ghosts are going to be around your bed when your time comes? People can say about me or anyone, 'Oh, you're great at this,' but you have to look at yourself and say, 'How do I feel about what I've done?' That's all that matters."
So, Denzel Washington did not become a doctor, lawyer or journalist -- he did, however, end up playing them on screen (as Tom Hank's lawyer in "Philadelphia," as Dr. Philip Chandler on the NBC show "St. Elsewhere and as an investigative reporter ducking bullets alongside Julia Roberts in "The Pelican Brief"), instead.
Looking at a man who gave us films such as "Glory," "Crimson Tide," "Malcolm X" and "Remember the Titans," I'd say the world is lucky that he went in a different direction after college. Do YOU agree or disagree?