Wednesday, February 15, 2012 at 1:50PM
Photo by Bart Everson, whose mom made this Rated-R birthday cake for his 17th Birthday!
On Friday, April 15, 2011, I showed you all what my movie collection pretty much looks like while sharing a list of
my top 10 independent films
. That post marked the 18th day of Arlee Bird's
2011 Blogging from A to Z Challenge
, an online event where participants blog daily for 26 days straight during the month of April, excluding Sundays. The catch is that each blog post has to coincide with a letter of the alphabet, so April 1st would be "A," April 2nd would be "B" and so forth.
Today, if I showed any of you what my workspace looks like, complete with all notebook paper and index cards filled with unfinished screenplay outlines, character breakdowns and movie ideas, it would make my collection of DVDs and VHS tapes look like they were organized by June Cleaver (which it's clearly not) – that's how messy I have allowed some of my most treasured blueprints for future works to become.

I have maybe two finished feature length screenplays, one partially completed first-draft of a short film script that is currently a work-in-progress and LOTS of movie treatments sitting around my apartment that have one thing in common, if any – they were all inspired in one way or another by songs that I have listened to on mixtapes, albums of my favorite artists or online radio stations such as Pandora and the now defunct Yahoo Launchcast.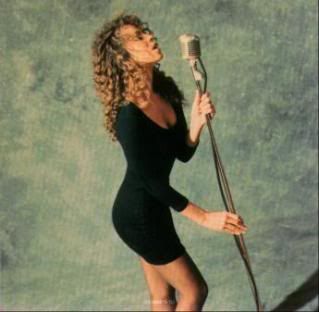 A combination of one old Mariah Carey tune with a popular R. Kelly song aided in my first draft of a short film about a delivery person who takes his attempts to provide customer service way too far – that one is laying somewhere in the notebook paper pile. As I gear up to participate in the 2012 Blogging from A to Z Challenge this year, winging it is not going to be part of the plan, at least for as much as I can help it.
This April, daily blogs at the Madlab Post are each based on a different song that has either been playing in my CD player, on the iPod touch that I no longer have or on my computer at one time or another.
Once upon a time, many of these songs may have also become part of one or several online playlists that I listen to when I'm writing, blogging or working on a new script or video of some sort. In each blog post, these songs will accompany a party planning spin on movies that the tunes remind me of and what they both could represent in the grand scheme of things during this journey that we call life.
Think of it as "Quotes from Music Tribute Movies" meets "5 Harry Potter Cocktail Recipes for Ron Weasley Fans". As if all of this won't keep my busy enough, I am tinkering with plans to create a video component to my A to Z schedule. The verdict is still out on that but I will post an update about it if anything changes between now and then.
In the meantime, those of you who might want to take on the task of posting something every day can sign up for the Blogging from A to Z Challenge between now and April 1st. The only difference this year is that the challenge will include one Sunday since the beginning of April falls on that day. The A to Z website is well worth checking out, even if you plan to sit this one out and just visit the blogs of A to Z participants….such as The Madlab Post, of course!
Just last month, I attended a masquerade party for my cousin's 30th birthday and that whole theme now reminds me of the costumes people wore in "Man in the Iron Mask" starring Leonardo DiCaprio.
Have you ever been to or hosted any movie themed parties before?
If so, how did they turn out?
What would it take for you to want to RSVP for one today?
Technorati Tags: a+to+z+challenge, blogging+from+a+to+z+challenge, 2012+a+to+z+challenge, blogging+from+a+to+z, atozchallenge, parties+and+playlists, playlists+and+moving+pictures, a+to+z+blogging, blogging+in+april, april+blog+challenge, april+a+to+z+challenge, a+to+z+2012, 2012+a+to+z