Monday, March 12, 2012 at 10:00AM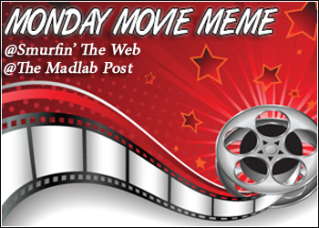 Last Monday was a big ol' fraud, as Dale at Smurfin the Web had us all trekking through fake, phony and fraudulent territory. If you think living your life is hard to keep up with this week though, imagine having to manage two lives! That's what this week's Monday Movie Meme is all about -- one person being different people in different places. Not necessarily like Nicolas Cage and John Travolta in "Face Off" nor like some kind of Bipolar disorder, but, more-so like Robin Williams in "Mrs. Doubtfire" -- maybe. So, this week's topic is: Double Trouble.
Share on your blog or in the comments section, movies featuring people who lead secret lives. Also, make sure to visit the blogs of fellow Monday Movie Meme participants. Here is my selection for this week's Double Trouble theme.


Marzieh, played by Marzieh Vafamehr in "My Tehran for Sale," is an actress banned from performing in theater, so she rehearses secret performances with an underground acting troupe. As the story progresses in this film, Marzieh seeks to find creative freedom by moving to Australia with her boyfriend, Saman. Political, financial and personal challenges, however, cause this woman to wonder why the cost of spiritual or professional fulfillment is so high, as she fights in a quest to pursue her artistic goals.
I chose this one movie for my list because although the film is set in Iran, it was made by an Australian based filmmaker named Granaz Moussavi, who was, however born in Tehran. She and actress Marzieh Vafamehr have more in common than being from Iran -- both of them are women directors who made short films before embarking on a feature length film -- one that brought them a lot of trouble back home. "My Tehran for Sale" was banned from being shown in Iran but locals still managed to watch it, by way of illegal distribution. I guess you could call that justified movie piracy for a cause if you want to look at it that way.
In October 2011, Marzieh Vafamehr was sentenced to one year in prison and 90 lashes for appearing in "My Tehran for Sale" with a shaved head and without a hijab. These charges from Iranian officials are due to Vafamehr being in an Australian film that is critical of the Islamic regime, with her head uncovered. Vafamehr's sentence has since been reduced to three months and the lashes were overturned by an appeals court.
However controversial some people may view "My Tehran for Sale" to be, the film has still managed to gain support at film festivals and from arts and non-profit organizations including the South Australian Film Corporation and Amnesty International. I watched this movie at a one-time screening in Philadelphia and while wasn't too keen on the atmosphere where it was presented, for a few different reasons, I am glad that I convinced myself to go check it out on one cold and rainy evening.
For those who still prefer a list of films for this week's Monday Movie Meme, however, here is an honorable mention for the Double Trouble theme:
Disclaimer: I still have yet to watch this movie, but it is sitting in my rental queue, so it should be coming around the mountain one of these days.
The Driver, played by Ryan Gosling in "Drive," works as a mechanic and movie stuntman while also moonlighting as a getaway driver for people pulling heists. This man is a jack-of-all-trades but interestingly enough, all of his jobs kinda compliment each other. I mean, he can using the skills from his day job to transport criminals and if a car breaks down, he can fix it no matter if this is on the set of a film studio or on the street following a robbery. The Driver seems to be able to compartmentalize his separate lives very well, until he gets tangled up with a married woman who lives in his apartment building.
Which double-life-managing movie characters come to YOUR mind?

Technorati Tags: monday+movie+meme, monday+meme, my+tehran+for+sale, smurfin+the+web, movie+meme, double+life+movies, secret+life+movies, movie+blog+meme, blog+movie+meme