Monday, May 28, 2012 at 7:02PM
Before actor Jude Law became the go-to man for wisdom during my screenwriting (mis)adventures, he supported charities centered on peace, health and education. Variety Club, a charity that provides medical equipment, transportation and access to activities such as sports, to sick, disabled and disadvantaged children is among these organizations where Jude Law dedicates his humanitarian efforts. I thought that Variety Club was solely a British organization but recently learned that it also has footing in the U.S.called Variety of the United States with chapters across the country.

So in honor of Memorial Day and Jude Law's work with the Variety Club, this week's Monday Movie Meme topic is: In the Line of Duty.

Share on your blog or in the comments section, your most memorable MOVIE CHARACTERS who were injured while working in a branch of the Armed Forces. Remember to also visit the blogs of fellow participants. Here are my selections for this week's In the Line of Duty theme.

Lieutenant Dan
Who could forget this grumpy ol' Army veteran who lost both his legs during the Vietnam War, in "Forrest Gump?" Of all the things I remember about Lt. Dan (played by Gary Sinise), one of the biggest moments that stood out was when he scolded Forrest for saving his life. Lt. Dan had trouble coming to terms with being a double amputee and needing to use a wheelchair. It seemed as though the alternative -- dying in Vietnam was a more acceptable fate to Lt. Dan, rather than living with his disability.

The war veteran's eventual new, more joyful perspective on life shows how people who encounter dire circumstances can find peace quicker when there is at least one person out in the world who genuinely cares about their well being and/or believes in them. In Lt. Dan's case, it was Forrest, despite the fact that Dan frequently either tried to push him away or shoot down his dreams and beliefs.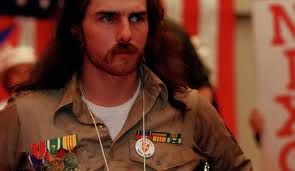 Ron Kovic
Returning home from the Vietnam War was just as bad, if not worse than being in battle, for this paralyzed Marine Sergeant who appears to receive more pity or blatant neglect than respect and a warm welcome home by his country-- including the very people who are supposed to help him in "Born on the Fourth of July." St. Ron Kovic (played by Tom Cruise) spends his rehabilitation surrounded by careless staff in a rat infested VA hospital where access to quality medical supplies is slim and doctors rarely visit their patients.

After refusing to allow doctors to amputate one of his legs, the wheelchair-bound veteran returns home as a hostile man who questions the virtues that he once believed such as "honor" and "courage." Kovic's combative disposition about the cards that he was dealt strains the relationships in his family. I don't know what kind of lessons are to be learned from Ron Kovic, except for maybe that we need to treat our wounded veterans better, particularly where their healthcare matters (quality hospitals that are staffed well; access to improved and continued physical and mental rehabilitation) are concerned, since they risked their lives to save ours.

Jose
This Vietnam veteran gets his hand blown off while working as a demolitions expert for the Marine Corps and causes all sorts of ruckus upon returning home in "Dead Presidents."
The effects of the war also took a toll on Jose's mental state -- he turned into a pyromaniac and literally burned up hundreds of thousands of dollars that his friends planned to share following a robbery.
Much like Ron Kovic in "Born on the Fourth of July," it seems as though we could stand to provide proper forms of rehabilitation -- in the case of this "Dead Presidents" movie character, mental health care including counseling or related therapies.

Here's hoping that the disabled and/or wounded among our Armed Forces receive all of the medical care they need including physical therapy, helpful medication, crutches, reconstructive surgery, counseling and support for any symptoms of post traumatic stress disorder and any related support that provides a way for them to improve or maintain good health.
Lucky for the rest of the world, charitable organizations like Variety Club are helping children live with their disabilities or illness, by providing families in need with adapted car seats, wheelchairs, feeding tubes, prosthetic limbs, hoists and other medical equipment.

Happy Memorial Day everyone! Now, I'm off to try and finish some video editing before hopefully watching "Kingdom of Heaven" on DVD later tonight.
So tell me....
Who is the most memorable wounded Character in the Armed Forces that YOU ever saw in a movie?

Have YOU ever needed medical equipment, therapy or medicine and could not afford it - or - Do YOU know someone who has? If so, how did that experience turn out? If not, do you think that health insurance companies should offer better coverage for medical equipment and rehabilitation services?