Monday, February 25, 2013 at 10:54AM
As the number of 2013 Blogging from A to Z Challenge participants continue to grow (811 blogs are signed up at the time of this writing), I wouldn't be surprised if we reached 2,000 by April 1st.
All of the A to Z co-hosts have drafted our own mini teams of volunteers to help us manage the administrative tasks that keep this worldwide marathon running as smooth as possible. In the name of the my personal Mighty Madlab Minion team of helpers and the upcoming animated sequel "Despicable Me 2," the theme for this week's Monday Movie Meme is: Mighty Minions.

Share on your blog or in the comments section, movies featuring memorable assistants. These characters are either personal assistants or office assistants who excel in their duties. The most memorable assistants in film can also include those who are likely to not receive a letter of recommendation for a job well done -- since they're work performance leaves much to be desired, for one reason or another. Remember to link back to this post and visit the blogs of fellow Monday Movie Meme participants. Here are my selections for this week's Mighty Minions theme.

Sex and the City: The Movie
Louise (played by Jennifer Hudson) is a tell-it-like-it-is kind of assistant whose organizational skills, sense of humor and quick thinking capabilities netted her lots of perks -- the kind that don't show up in a standard benefits package. She not only had the ability to (sorta) drink on the job -- but her boss Carrie Bradshaw even footed the bill for afternoon cocktails! A strong work ethic was so memorable that Carrie started addressing her by the nickname "St. Louise" and outfitting this southern gal with her very own luxury handbags.

Love Actually
One of the ten love stories in this romantic comedy features a secretary who unabashedly flirts with her married boss. It seems to be working for her, since the boss starts giving her extra attention, among other things, because he thinks she only has eyes for him. I bet this design executive would have a change of heart if he found out that she's just a flat out skank who answers the door in her underwear and would also be quick to pounce on the Prime Minister, if given the chance to do so.

The Dark Knight Rises
Alfred Pennyworth's loyalty to Bruce Wayne was so strong that he went above and beyond his duties as a butler, to protect our hero's best interests at heart. This is a guy who is willing to put his relationship with Batman -- and his job -- on the line if it means keeping Wayne out of trouble.

Pride
Bernie Mac plays a janitor named Elston who becomes an assistant a swim team coach named Jim. Oddly enough, Elston doesn't care for Jim much when the coach sets out to revamp a recreation center that is in the dumps. Hmm...I don't understand it -- how can you get mad at the guy who just upgraded your position?!! C'mon!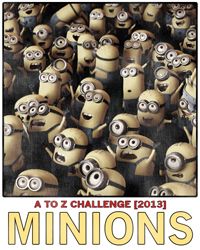 Minion Badge designed by Jeremy [Retro-Zombie] HawkinsNow without further ado, I also bring you MY Mighty Minions team...

Sydney Aaliyah
We've been acquainted for nearly a year now, after becoming Tweeps in April 2012. She also gave me the Versatile Blogger Award, in the Spring that year and I listed her as one of my gains while reflecting on many A to Z Challenge experiences.
I'm excited that Sydney Aaliyah has joined my team of minions because it gives me a chance to work closely with someone I am familiar with while we both meet new people in the process.

Sheila Siler at Sheila Scribbles
A strong sense of humor was what stood out to me while reading Sheila's offer to volunteer for this year's challenge. The fact that she doesn't even mind being called a "minion" in public was one of the things that caught my attention first. Our good communication, however, is why I look forward to working with her from here on out. Sheila seems to get me, in that, we tend to have an understanding of how the mighty minions team will operate -- and she's always pleased by my wacky jokes and related attempts to spice up our A to Z Challenge participant review-slash-enforcement engine.

Tami Von Zalez at Thrift Shop Commando
I like her avatar, which is what drew me to drafting her for my mighty minions team. Since then, it's been nice to learn that, like Sheila, Tami also gets me, the code words/language and conduct that we adopted for our team. In fact, it is because of her that I've been contemplating possible mighty minion swag items to pimp out their spaces. I think its going to be fun working with Tami!

and M.J. Joachim

Thanks to A to Z co-host Tina Downey at Life is Good, M. J. became a recent addition to this mini alphabet squad that I'm heading up. I have no idea how she's going to complete the April challenge with five blogs of her own to manage, so it will be nice to watch M.J. exercise her multitasking skills across those blogs and minion duties.

Who are some of the most memorable assistants that YOU have seen in movies?