Friday, January 14, 2011 at 10:32PM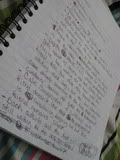 I finally figured out (or was rather, reminded) another reason why the script is so important when making a movie.....resources.
Yes, I know it's been a few months since my last post. I'll touch on that in a few but first, let's discuss good ol' filmmaking.
After trying to find the motivation and time to write the script for a short movie that I plan on making within the upcoming weeks, I finally got up in the middle of the night and completed a rough outline for it. What started as an idea to create my own personal 48 hour film challenge to help move myself into action and become more productive has resulted in an exciting story that will hopefully be done by the end of January.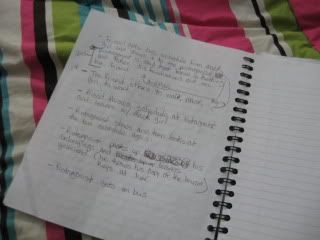 While the script may not be hard to complete in enough time to actually start production once I start typing it up, I realized a bit of a challenge during the outlining process. No matter how simple I tried to make the story be (and I mean, it's really simple...you could probably count the entire cast of characters on one hand), I'm still lacking the resources necessary to complete the main scenes in this movie. These resources include tangible items such as a manly styled vehicle, diamond ring and most importantly.......a location! I wanted a free one but it looks like I may have to rent one by just paying someone to leave their home for a few hours.
If anyone has any suggestions on where I can get these items, preferably for free, by all means, leave a comment with these suggestions.
Also, I'm seeking three male actors and two female actors. I'll likely find them through a network of colleagues so maybe the casting thing can be resolved quicker than the props and location. Well, here's to an upcoming week of shooting on the fly!
Now that we've covered the short movie project, let's discuss my posting frequency (or lack thereof), the status of this blog as far as updates go and what's in store for 2011.
Real life has gotten in the way of my film and art aspirations and that includes this blog. Trying to work and pay bills has left me with not much energy to post anything. I requested some guest contributors during the fall of 2010 but there weren't tons of people lined up to keep the Madlab Post active on a weekly basis. With the new year of 2011 here, I'm taking a more proactive approach to getting some guest contributors to balance out my infrequent posting habits as well as posting many of the dozen or more drafts that I've had sitting around and just never finished.
As mentioned previously around the time of my Blog Action Day posts, if any of you have something that you want to know regarding independent films, or even mainstream films for that matter, just leave a comment of what that is and that'll surely get the posts coming on here.
Speaking of movies.....I so want to check out "Blue Valentine"!
I've been waiting since December 31st and then like January 4th and then it appeared that "Blue Valentine" wasn't going to be released in many theaters and then a really cool film festival buddy gave me the goods on it's release today in the Tri-State area, so it's pretty messed up that it took an extra few weeks to be released but it's finally out in more theaters so it's all good!
Technorati Tags: happy, new, year,, filmmaking, in, 2011,, filmmaking,, blue, valentine,, scriptwriting,, short, movies,, short, film,, short, film, script,, scripts,, independent, film, scripts