Sunday, June 24, 2012 at 4:00PM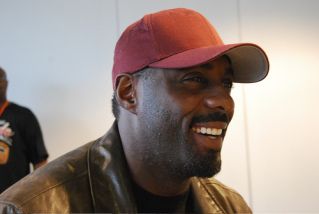 "It's up to you to be who you say you are.
I have not done anything different from any other actor, but I don't accept everything. I very rarely let color bound me. I mean, you can't be Blacker than me" -- "I was born to African parents. My legacy in life is not led by the color of my skin and I don't choose a lane because of it. I'm just me." - Idris Elba

JET magazine calls "Prometheus" star Idris Elba "the actor's answer to a NASCAR driver" because he has successfully navigated through all entertainment genres without sacrificing the quality of his image. Elba's previous roles include but are not limited to a blue-collar working single father in "Daddy's Little Girls," a French priest who rides motorcycles in "Ghost Rider: Spirit of Vengeance," a finance executive trying to save his family in "Obsessed" and a mythic warrior with superhuman powers in "Thor."

After discussing complacency this past Thursday, Idris Elba's quote featured above has me thinking about typecasting -- sometimes it seems necessary when it comes to casting directors or filmmakers trying to find the right actors whom they know will fit a role perfectly (you want an action scene with martial arts? you call Jackie Chan or Masi Oka; you don't call B. D. Wong) -- or when it comes to choosing a role based on strengths that as an actor, you know you possess more than any other person currently working in your field (Michelle Williams as Marilyn Monroe in "My Week with Marilyn;" Lindsay Lohan as Elizabeth Taylor in "Liz & Dick").

Other times, however, typecasting doesn't always serve a useful purpose because it makes people think that one type of character is all you have to offer such as a thug or funnyman or jerk, etc. -- so it is important for actors to determine the direction that they want their career to go in or decide how they want to be portrayed and then choose roles that support that path -- whatever path that is. Still, for some actors, typecasting seems to be a double edged sword where landing roles are concerned. Action star Vin Diesel used to struggle to get selected for roles because casting directors often overlooked him due to his ethnicity (Italian, African-American "and a lot of other stuff").

Diesel's frustrations in trying to become an actor resulted in making a short film called "Multi-Facial" that is inspired by the many auditions he went on that led nowhere -- he was told that he wasn't dark enough to play black roles, not Italian enough for other roles and not gangsta enough for some roles. In Vin Diesel's short film, the main character is sent to an audition for a Latino character, despite the fact that he does not speak Spanish -- since casting directors considered him to be brown enough to play a Hispanic character. Legendary director Steven Spielberg was so impressed by Diesel's "Multi-Facial" short that he cast him in "Saving Private Ryan" and the rest is history.

In "Hustle and Flow," they said it's hard out here for a pimp. Well, it looks like it's also hard out here for actors who just want to live their dreams in an industry where your job prospects are either flowing or minimal depending on whether you fit certain stereotypes rather than how good your performance is in said role. So I say, cheers to actors like Idris Elba and Vin Diesel who take hold of the the driver's seat, steering their careers in the lanes that fit the type of people they want to be -- influential, believable and as Chellebee once said -- Multifaceted!

Do YOU think that typecasting limits actors from reaching their full potential in a movie role?

In what circumstances would YOU accept the use of typecasting for a particular film?