Wednesday, January 30, 2013 at 5:00AM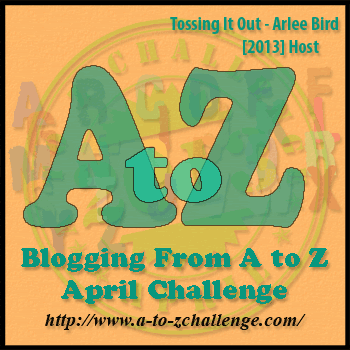 Today, 13 men and women (including myself) released an opportunity for those of you who are bloggers, to build your readership and find new blogs to follow. Signups for the Blogging from A to Z Challenge – April 2013 are now open at a blog near you!
Arlee Bird at Tossing it Out created this challenge in 2010, to celebrate a milestone for his blog.
Now in its fourth year, the list of A to Z Challenge participants continues to grow – over 1,700 bloggers participated last year. The rules are simple: On April 1st, post about something that starts with the letter A. On April 2nd, post about something that begins with Letter B, and so on. You get Sundays off.
The A to Z Challenge is rated G for General Audiences including bloggers, so you can participate no matter what blogging style you have; Everyone is welcome.* Some participants freestyle their posts, going with a random topic for each letter. Other folks go with a theme to tie all their blog posts together. Do whatever (spontaneous or thematic) fits your style.

Your ticket to this alphabetical blogging extravaganza is just a linky list away. Sign up on the list below, grab a badge from my A to Z page in the navigation menu above, check out my fellow co-hosts and get ready to flex your blogging muscles. April will be here faster than you can yell "Action!"
Don't freak out about having to visit everyone during the challenge. All we ask is that you visit five (5) new blogs a day, starting with the one after yours on the list. At that rate, you'll have met at least 150 new bloggers by the end of the month. Check the Blogging from A to Z Challenge – April 2013 website for more information, answers to your questions, tips and tricks on participating, introductions to your co-hosts and related goodies to get you ready for the blogathon in April!
This year, we added a new feature for the signup process: Categories! You can pick ONE of our 22 categories for your blog when signing up. It is a completely Optional feature, so it is not required for you to do so. Choose one or choose none. It's all up to you. If you do decide to pick a category, adding the category code after your name/blog name while signing up on the linky list:
e.g. Damyanti Biswas - Amlokiblogs (WR)
HERE ARE THE CATEGORIES:
1. WRITING : (WR)
2. BOOKS: (BO)
3. FILM : (FM)
4. PHOTOGRAPHY: (PH)
5. GARDENING: (GR)
6. CRAFT: (CR)
7. ART: (AR)
8. MUSIC: (MU)
9. CULINARY: (CU)
10. LIFESTYLE: (LI )
11. FASHION: (FA)
12. PERSONAL: (PR)
13. SOCIAL MEDIA: (SO)
14. GAMING: (GA)
15. EDUCATION : (ED)
16. POLITICS: (PO)
17. HISTORY: (HI)
18. SCIENCE: (SC)
19. HUMOR: (HU)
20. TRAVEL: (TR)
21. MISCELLANEOUS: (MI)
22. ADULT CONTENT: (AC)
Now, let's cut to the scene where you Sign Up Here…
Please sign up carefully using your correct blog address that leads to your home page and not to a specific post.
*If your blog contains adult content, you need to post a warning that indicates it as such. Thanks for your understanding.
**PLEASE READ Sign-Up Intstructions carefully first, before signing up for the challenge! -- especially where categories are concerned. Categories cannot be added once you signup and Categories cannot be changed either.