Monday, July 2, 2012 at 3:18PM
The bathtub and shower are treated as two different animals with regards to bathroom scenes in film.
In Fact, aside from maybe Joe Swanberg's "Hannah Takes the Stairs," I myself have a hard time recalling characters taking a bath in one scene and taking a shower in another scene -- during the same movie. This is one of the reasons why I specifically chose Bathtub scenes as the topic for one of the Monday Movie Memes back in May -- films either have one (the tub) or the other (the shower). So, we're tackling the flipside with this week's Monday Movie Meme theme, which is: Rain on me.

Share on your blog or in the comments section, the most memorable shower scenes that you've seen in a film. If you participate by listing movies on your own blog, make sure to link to this post and remember to visit the blogs of fellow Monday Movie Meme participants. Here are my selections for this week's Rain on me theme.


I Now Pronounce You Chuck and Larry
Ving Rhames plays a firefighter named Fred who treats his co-workers to a rendition of Whitney Houston's "I'm Every Woman" song while dancing in the shower room at the fire station. I know this is supposed to be a funny scene because it follows an awkward moment where one of these men drop the soap and are afraid to pick it up in front of Chuck (played by Adam Sandler) and Larry (played by Kevin James).

However, the singing was not easy for me to watch because I had a hard time picturing Ving Rhames as a flamboyant homosexual movie character. Some actors (Sean Hayes, maybe) can pull that off without a hitch but I don't buy this one, especially after watching Ving Rhames as a military vet in "Rosewood" and a mob gangsta "Pulp Fiction." Hmm, I guess this view from an audience standpoint could bring that whole typecasting matter back up, because my views are also based on his large and muscular physical stature.


Baby Boy
The main character Jody barges into his baby momma's bathroom, pulls the shower curtain open and yells at her to cook something for him to eat because he's hungry. Nevermind the fact that she's wet, naked and completely startled by his disrespectful behavior, the following scene features him scarfing down a plate of food that she quickly put together for him. I don't know what's worse -- Jody's actions or the fact that she actually got out of the shower and cooked something for this jerk.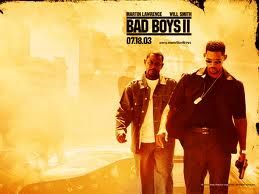 Bad Boys II
The night scene where Marcus finally comes down from his ecstasy high during a cold shower in the police captain's bathroom is funny.

Marcus: Mike, I got an erection! Call the wife and tell her I am on-the-way!


Boys Don't Cry
Brandon's heart-wrenching shower scene was brutal to watch because he was forced to hide his feelings and the pain of being assaulted by two friends -- well, two former friends, while trying to gain his composure enough to try escaping from a deadly situation.

What are the most memorable shower scenes that You've watched in a movie?
Also, it's time to nominate a new King Dong! My nominations are:
- Daniel Craig
- Gerard Butler
- Jeremy Renner
VOTE for one of these actors in your comment OR nominate another actor not listed here that YOU think embodies the looks, talent, personality or related qualities that make him a good fit for the King Dong throne.