Monday, November 21, 2011 at 7:00AM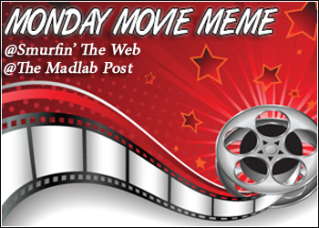 In just a few days, some people will most likely devour food that they otherwise would not eat, all for the sake of being polite to the chef or an entire host family, making for an awkward and pretty brutal way to have to celebrate the holidays.
What's worse about this picture is that there are cooks in this world who expect everyone to eat the turkey, stuffing, cranberry sauce, yams, macaroni and cheese, mashed potatoes and gravy, ham, apple pie and everything else that is served up on their Thanksgiving day dinner table. That is nuts and I'll tell you something else....whoever does this is nuts.
I mean, everyone doesn't like turkey or stuffing or cranberry sauce or yams or macaroni and cheese or mashed potatoes and gravy or ham or apple pie, so why should they be expected to eat these things just because you made it? I feel sorry for kids, since the little ones are forced to deal with this nonsense often and it gets worse during holidays. That brings me to this week's Monday Movie Meme topic: What's for Dinner?

Share on your blog movies that feature crazy cooks. The characters in these films may be able to whip up a good feast but they are either wackos in one way or another...or they do wacky things.
Dale over at Smurfin the Web had us on a sweet vacation tip last week. As it's my turn to host the meme this week, I'm inviting you all to take a closer look at food in the movies. Not what's on the plate, but who's behind the dish! Here are my selections for movies that feature crazy cooks.
What started as a fun way to get friends and neighbors together for some good ol' socializing over dinner turned into a battle of the casseroles that became less about the food and more about hiding secrets, playing naughty games and swapping spouses behind closed doors....and sometimes out in the open...poolside, as a matter of fact. It's the kind of movie where you'd probably wish you were invited over for Thanksgiving dinner, if only for just one year, to find out if you would either fit in and have a blast OR if you would be very uncomfortable and clearly out of place.
Most chefs wave cooking utensils such as a spatula in their hand. Sal, the pizza man waves a baseball bat in his hand. Unless he's using it to roll dough for an 18 inch pepperoni pie, the bat makes him look like "crazy joe clark" from "Lean on Me." Sal is one cook that you do not want to offend nor catch him on the wrong day when he's in a bad mood.
Samantha made sushi for Smith and then threw it at him when he came home later than expected on Valentine's Day. Prior to that, she was laying on a dining room table naked with his meal on her body. So, not only is she missing some table manners (hello! grown ups...wait...civilized grown-ups don't throw food at people) but she's also unsanitary. I get that this was a special one-on-one meal but since Samantha doesn't usually cook, whose to say that she won't be serving up food to her guests this way in the future? Um, I'll have my seafood without the extra butt crack, please.
House Party 3
Showboat's toe jam cracker leaves much to be desired, yet it's not easy to figure out which one takes the cake....his nasty cracker spread or the prison inmates that catered Kid's bachelor party with butcher knifes in hand while addressing the hungry guests. Master chefs? I think not.
What are some of the craziest cooks YOU've watched in a movie?

Technorati Tags: monday+movie+meme, movie+meme, smurfin+the+web, food+on+film, food+in+the+movies, cooks+on+film, cooks+in+the+movies, thanksgiving+movies, chefs+on+film, cooking+on+film, movies+with+chefs, movies+with+cooking, cooking+on+film, food+in+film, cooking+in+film