Sunday, May 22, 2011 at 6:58PM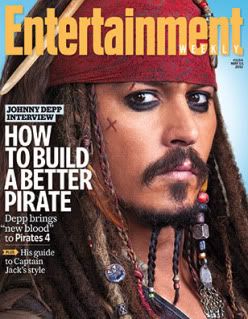 "Pirates of the Caribbean: On Stranger Tides" is dominating the box office this weekend after being released on Friday. This movie, starring Johnny Depp earned over $300 million worldwide according to the Wall Street Journal....and it's only Sunday, so far. While moviegoers enjoy the adventures of their favorite pirate on the big screen, the May 13th issue of Entertainment Weekly features actor Johnny Depp on the cover and offers a deeper look into several elements of Captain Jack Sparrow's costume from the actor's perspective.

In a feature titled "Johnny Depp's Guide to Captain Jack's Style" within the magazine's cover story, Depp shares some rather off-putting thoughts on the gold tooth hanging from the character's bandanna. He claims that Captain Jack Sparrow swallowed one of his gold teeth.... "ad then...well, he waited for it." Um, okay....what moviegoer wouldn't find that to be pretty disgusting?
Johnny Depp also mentions how he worked with the costume designer for "Pirates of the Caribbean: On Stranger Tides" to add antique lace to Jack Sparrow's list of arm and hand accessories for suggesting that it came from a former lover but the 80s ring belonging to Depp that features a green stone and skulls may be more interesting because it has become a significant part of Jack Sparrow's wardrobe on retail products based on this movie character.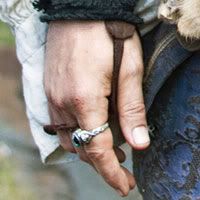 The ring also adds a unique touch to the costume since it is an item owned by the actor who has to play this pirate role. Maybe it helps to bring Depp closer to Sparrow or something....who knows?! This would not be the first time that an actor used his or her own belongings in a film but where "Pirates of the Caribbean: On Stranger Tides" is concerned, it appears that the little things matter more than I thought when creating certain traits for a movie character.
This King Dong series post is dedicated to Alana of Writercize.
Technorati Tags: johnny+depp, pirates+of+the+caribbean+on+stranger+tides, pirates+of+the+caribbean, wordcount+blogathon, 2011+wordcount+blogathon, may+blogathon, king+dong, jack+sparrow, captain+jack+sparrow, movie+wardrobe, movie+costumes,