Monday, September 5, 2011 at 2:38AM
It's time for another stop on the Monday Movie Meme tour where participants are treated to a show each week by Smurfin' the Web and I until The Bumbles returns to center stage. The topic for this week is....Neighbors from Hell! My topic is inspired by a jerk man in the Army I met earlier this summer who has been experiencing the problems that come with having an overbearing and unpleasant neighbor.
Share on your blog movies that feature neighbors that make you want to relocate or wish you never moved into a particular place of residency in the first place. These neighbors are usually rude, crude and sometimes have nothing else better to do than annoy the heck out of others around them. Here are my movie selections for this "Neighbors from Hell" topic. They are categorized by common problems that people deal with in real life.




Common Problem #1 - Keeping Up with the Joneses

After losing the stunning front lawn due to financial difficulties in "Fun with Dick and Jane," Jim Carrey's character steals patches of lawn from several other residents on his block to make his wife feel better about their unfortunate circumstances. This unwise decision leads to a crappy looking front lawn sprinkled with a few green pieces surrounded by a lot of dirt for the couple. It also results in a block full of houses with lawns that are missing a section of grass, which ruins the swanky appearance of each house and also lowers the value of that street.
Common Problem #2 - The Inconsiderate Nuisance

While "Friends with Money" starring Jennifer Aniston follows the story of a single woman and her three married friends, one of the couples in particular are a prime example of why there are ordinances and zoning laws in some neighborhoods that determine what residents can and cannot do, even if they own their home. Catherine Kenner plays Christine who works at home with her husband David (played by Jason Isaacs) as screenwriters. They decide to add a floor to their house, providing them a great ocean view from their balcony.
All seems to be coming along until Christine realizes that the loud and space-hogging construction work taking place at their house is not the only reason why the neighbors are no longer talking to this unsatisfied woman and her husband. The addition to their home blocks everyone else's view on the street, making the home remodeling project an overbearing reminder of shutting people out. What Christine and David fails to realize as first is that sprucing up their home doesn't fix the main problem.....their relationship. As the construction continues, a marriage falls apart along with a sense of community since the other residents do not like them now.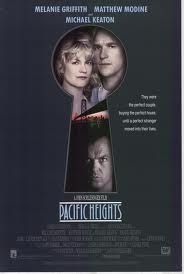 Common Problem #3 - Landlord Tenant Disputes

Michael Keaton became a sociopathic maniac in "Pacific Heights" but what made matters worse is the fact that innocent neighbors were affected by an eviction war between Keaton's character and the landlords who own his apartment. Keaton plays a con artist who sabotages the property at his landlords' expense. His behavior goes so far as to deliberately infest the other tenant's apartment with pests until they eventually got fed up and moved out, thus causing the landlords to lose out on their main source of revenue from this property.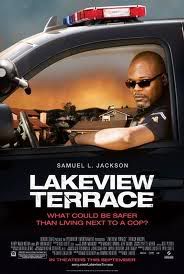 Common Problem #4 - Nosey, Sexist and/or Racist People

In "Lakeview Terrace," Samuel Jackson plays a cop with a chip on his shoulder who will stop at nothing to drive away the interracial couple who moved in next door. His harassment reaches violent levels and while the trailer still didn't get me into a movie theater to watch "Lakeview Terrace" when it was released in 2008, the film was given a nice spot on my rental queue. I haven't yet watched this movie in it's entirety but when I do, there are no doubts in my mind that this may be the epitome of what it is like to have a neighbor from hell.
Who are some of the worst neighbors in movies that YOU've watched?

Technorati Tags: monday+movie+meme, neighbors+from+hell, worst+neighbors+on+film, movie+meme, smurfin+the+web, movie+meme+tour, monday+movie+meme+tour, the+bumbles+movie+meme, the+bumbles