Sunday, November 13, 2011 at 11:20PM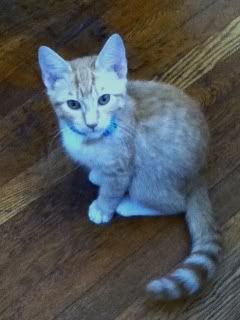 Join me in answering today's NaBloPoMo Prompt:
I was terrified to go on DWTS (that's "Dancing with the Stars," for those who don't watch reality TV), but facing my fear and overcoming it has been an incredible experience. Have you faced fears and overcome them?
(Guest Post by Ricki Lake)

Yes, I have faced several fears and overcame most of them while still working on the others. I was afraid of continuing my art education after abandoning the practice for so many years and after overcoming that particular fear, I've been reminded of how truly liberating visual arts can be for the mind and spirit. I also used to be afraid of cats...until I got one. Boy, did I overcome that one really quick!
What fears have YOU overcome?

Technorati Tags: nablopomo+blogher, ricki+lake, dancing+with+the+stars, DWTS, blogher+2011, nablopomo+2011, nablopomo+november+2011, nablopomo+november, q+and+a