Monday, October 10, 2011 at 5:40PM
Happy Columbus day everyone! As a result of my tardiness last week, Dale at Smurfin the Web was kind enough to get a Monday Movie Meme rolling with some great sports movies. Today, I present to you this week's brand spankin' (no pun intended, you just wait and see) new meme topic.....In the Buff. Share on your blog or in the comments section, movies about nudity and/or movies featuring naked characters. Make sure to visit the blogs of fellow participants. You may learn about a new weekend film to watch. Here are my selections for In the Buff.

I Am a Sex Addict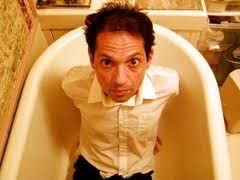 Having not watched this movie in some time, I don't remember if there is full-on nudity in this movie but there is at least partial nudity and scenes that suggest that the characters are naked. It has funny moments but the story can be kind of sad sometimes...I mean, what is funny about addiction? Nothing. This movie may disturb some viewers, depending on what you can take watching or not but those that want a little primer are welcome to read my previous "I Am a Sex Addict" review. The description of this film is self-explanatory but those who still need more details can check out Netflix, Blockbuster, Amazon, etc. or whatever tickles your fancy, ha!
I still cannot figure out what is the significance of two main characters sitting in a bathtub naked, playing musical instruments. Maybe the scene is intended to show how they finally realized that they have a lot in common, but, I can't help but wonder if some of the scenes in this movie were unnecessary in relation to the overall plot. "Hannah Takes the Stars" is about a woman trying to find herself in a new career while also dealing with workplace politics and relationships.
The "Hannah Takes the Stairs" director made this movie as well. I liked that one better because "Kissing on the Mouth" didn't seem to have an interesting plot. Well, that and the fact that this has to be the only movie I've ever watched that made me wonder "Is there a reason that I have to watch this chick shave her pubes?" and "What does this have to do with the story?" but I will give it props for being able to find an audience, develop fans and launch the careers of many who worked on the film.
What films would YOU add to an In the Buff category?