Monday, February 13, 2012 at 7:40AM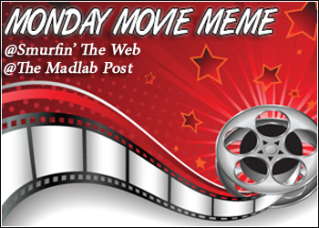 As my worst month of the year so far continues, thanks to a sad weekend and the new discovery of not one but two pieces of malfunctioning electronics equipment, I've decided to keep in line with the spirit of last week's "Stick Me" theme that Dale at Smurfin the Web served up. So, this week's topic is "When It Hurts Too Much."
Share on your blog or in the comments section, movies that cause pain in one way or another to the main characters and/or movies that are painful to watch. Also, make sure to visit the blogs of fellow Monday Movie Meme participants. Here are my selections for the "When It Hurts Too Much" theme.
*Disclaimer: this post may contain spoiler alerts where noted.


The Bone Collector
Many unsuspecting characters had an up close and personal meeting with physical pain in this movie, which stars Denzel Washington, Angelina Jolie and Queen Latifah. In "The Bone Collector," a cop teams up with a forensics expert to solve crimes committed by a serial killer who goes around New York city kidnapping people, only to slice and dice them up later.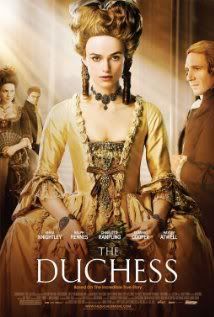 The Dutchess*
Lots of emotional pain is at the center of Georgiana Spencer's scandalous home life, where her husband, the Duke of Devonshire is sleeping with her best friend. That isn't even the tip of the iceberg in this movie, where the Duke refuses to acknowledge their daughters and is livid with Georgiana who has not given birth to a son, for whom he can make his heir.
Georgiana finds solace in the arms of a politician named Charles but their affair is forbidden (gotta love the hypocrisy!) but the Duke. From living in an unwanted threesome at home to being forced to give up the child she had by the man who she truly loved, while still being expected to keep up appearances, Georgiana didn't have it easy.
The Tombs
The mental anguish that the main character of this short film experiences just builds scene by scene. "The Tombs" is about a man who spends three days in New York's central booking system for a crime that he may not have even committed.
Underworld: Rise of the Lycans*
A combination of physical and emotional pain plague the main characters of this action/fantasy movie. Their pain is the result of forbidden love between two different species, which causes an elder to go on a personal rampage. Lucien gets beaten and whipped while Sonja is forced to watch, before she is burned alive -- literally and figuratively by the very person who is supposed to protect her. As if that's not enougg, Lucien is also forced to witness it all, bearing an unbearable burden of losing his family.
Now for the viewers point of view: here are films that while great, have been difficult for me to watch without being angry, depressed or sad....not necessarily in that order.
The Battle of Algiers
Since there is nothing pretty about war, I am aware that the violence and torture in "The Battle of Algiers" is to be expected but watching it still makes me uncomfortable. I read about this movie while doing some research on a filming technique that I want to try, and then rented it from Netflix. The film is another one of those real-life tales, which makes it all the more sad. In this movie, an Algerian revolution is in play as the people of this country fight to gain independence from the French.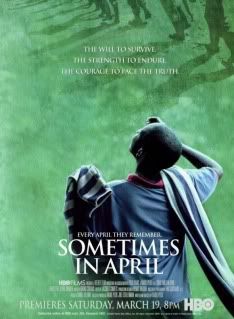 Sometimes in April
Idris Elba stars in this movie about two brothers who unfortunately find themselves on opposites sides of the 1994 Rwandan Genocide. I'm glad that I didn't dismiss "Sometimes in April" when a friend recommended that I watch it but find it to be among the most violently gruesome of films based on real life. Much like the violent acts in "The Battle of Algiers," people do some disgusting things in "Sometimes in April." It's a real shame and insult to our humanity.
While it's one of those made-for-television movies, many people who are familiar with this HBO flick believe that it provides a much better account of the tragedies that ensued during that time, than "Hotel Rwanda" starring Don Cheadle did. Having watched both films (...and I wasn't interested in watching "Hotel Rwanda" either but my grandmother insisted that I check it out), I'm partial to the overall consensus of Elba's film doing a better job than Cheadle's movie, but are still just as moving and just as painful to watch. They definitely aren't something that makes you want to pop a bowl of popcorn and get down with on a weekend night.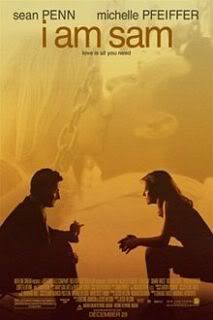 I Am Sam
My cousin told me that this movie, starring Sean Penn and Dakota Fanning, is so good that it will make me cry. After all, she was a grown 30-something mother who cried AND her eldest son broke down in tears during the film. Still, I didn't believe her and had little interest in watching "I Am Sam" but low and behold -- there I was at her house one day, where she played this movie on DVD. Needless to say, yes, I did get teary but was not balling my eyes out as much as she predicted.
What are the most painful movies that YOU remember?

Technorati Tags: monday+movie+meme, films+that+go+ouch, smurfin+the+web, when+it+hurts+too+much, blog+meme, movie+meme, monday+meme, stick+me+meme, the+tombs+short+film, the+bone+collector+movie, the+dutchess+movie, emotional+movies, painful+movies, painful+movies+to+watch, underworld+rise+of+the+lycans, sometimes+in+april+movie, i+am+sam, sometimes+in+april+rwanda, i+am+sam+movie